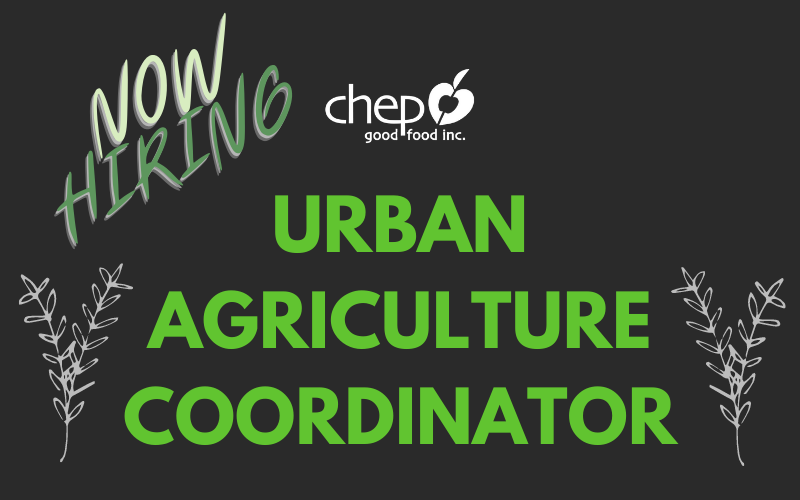 CHEP Good Food Inc. (CHEP) is a community-based organization working on Treaty 6 Territory and the Homeland of the Métis in Saskatoon. CHEP works with children, families and communities to improve access to good food and promote food security.
The Urban Agriculture Coordinator administers all aspects of the askîy project and other urban ag initiatives at CHEP, and is able to facilitate a good working relationship with staff and CHEP's partners, including the City of Saskatoon, schools and community groups.
The askîy project is an urban agriculture internship that engages both Indigenous and non-Indigenous youth to learn together about growing, harvesting, and selling food through an innovative model. Its five key focus areas are: growing food and food skills, enhancing cultural connections, promoting environmental sustainability, creating social enterprise, and engaging youth.
CHEP facilitates food security initiatives such as collective kitchens, children's nutrition and education programs, Good Food Box, community markets and community gardening. Urban ag programs are essential to CHEP's overall mission of improving community food security.
 Required Skills and Experience:
Mentoring youth and young adults and teaching principles of growing food within a social enterprise model
Experience motivating participants and working with community groups and volunteers
Horticulture knowledge and practical experience (at least 3 years)
First-hand experience in culturally diverse situations and with under-served community members
Organizing and leading events and workshops
Enjoyment of outdoor and physical work and the ability to lift up to 50 lbs
Creating and delivering presentations and preparing reports
Computer and software proficiency with the MS Outlook Suite
Proficient in problem solving, decision making, critical thinking and working collaboratively
 Desirable Skills and Experience:
Policy development and grant writing experience
Involvement in community committees as an organizational representative
Understanding of City of Saskatoon departments (e.g., planning, parks)
Understanding of Indigenous world views with regard to food and community
The successful applicant will need to have a police record check and clean driver's license abstract at time of hiring.
Please submit resume, cover letter and three references by noon CST November 25, 2021 to: executivedirector@chep.org