ASKÎY PROJECT [URBAN AG INTERNSHIP]
The askîy project is an urban agriculture internship that engages both Indigenous and non-Indigenous youth to learn together about growing, harvesting, and selling food through an innovative model. Its five key focus areas are: growing food and food skills, enhancing cultural connections, promoting environmental sustainability, creating social enterprise, and engaging youth.
GROW WHERE YOU'VE NEVER GROWN BEFORE
askîy [uh-SKI] is a Cree word meaning "earth"
kiscikânis [kiss-chi-GA-nis] is a Cree word meaning "garden"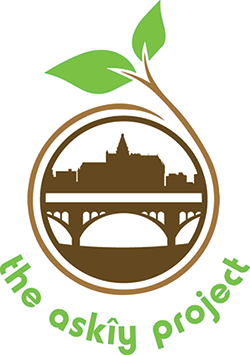 The main growing site, kiscikânis, is located near Station 20 West. This area is considered a "brownfield" site, a former industrial site that may have soil contamination. Because of this, kiscikânis uses over 400 repurposed blue food-grade plastic containers for planting. The site grows a variety of vegetables, flowers, and herbs each year as well as hosts educational workshops, demonstrations, and tours for groups.
The askîy project demonstrates how growing food can be possible anywhere in city limits with a little creative thinking and innovation. Using a social enterprise perspective, we connect youth with local producers and community organizations to share a love of growing food and desire to learn from each other. Interns learn to navigate their local food environment and economy, while gaining self-confidence and pride.
In 2017, the askîy project won best small project at the national Brownie Awards, recognizing projects that re-purpose brownfield sites in positive ways.
WHAT IS URBAN AG?
Urban agriculture is the practice of growing, maintaining, and distributing healthy food products within city limits. It can increase local food production and access to fresh, healthy food while encouraging social cohesion, physical activity and pride in community.
It also helps to reduce food waste, improve local habitats and biodiversity, build community relationships, and create safe, inclusive spaces.
WANT TO LEARN MORE?
For more information about urban agriculture or to find out how you can apply to be a summer intern, please contact our askÎy project coordinator or call 306-655-4575.