The ASKÎY PROJECT [Youth INTERNSHIP]
The askîy project is an urban agriculture internship that engages both Indigenous and non-Indigenous youth to learn together about growing, harvesting, and selling food through an innovative model. Its five key focus areas are: growing food and food skills, enhancing cultural connections, promoting environmental sustainability, creating social enterprise, and engaging youth.
GROW WHERE YOU'VE NEVER GROWN BEFORE
askîy [uh-SKI] is a Cree word meaning "earth"
kiscikânis [kiss-chi-GA-nis] is a Cree word meaning "garden"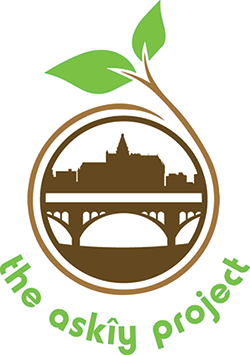 ketayak community kistikana, which means Elders Community Garden in northern Michif language is the second garden site for the askîy project. The first being kiscikânis, our container garden site on 19th St W. ketayak is located on Avenue H South in the heart of Riversdale, adjacent to the Riversdale King George Community Garden. The garden sits on the site of the former Riversdale Lawn Bowling Club. The club closed its doors to the public in 2016 after operating for 85 years. The site had since remained largely unused until spring 2021. The garden is now abundantly cultivated with veggies, herbs, flowers, berries and more. This second garden space allows CHEP to have a wider community reach and continue to support and grow our food security and urban agriculture programs.
 CHEP shares the space with Central Urban Metis Federation Inc (CUMFI). This is a community partnership to promote local food security.
The askiy project container growing site, kiscikânis, is located near Station 20 West. kiscikânis means 'garden' in Cree. This area is considered a "brownfield" site, a former industrial site that may have soil contamination. Because of this, kiscikânis uses over 400 repurposed blue food-grade plastic containers for planting. The site grows a variety of vegetables, flowers, and herbs each year as well as hosts educational workshops, demonstrations, and tours for groups.
In 2017, the askîy project won best small project at the national Brownie Awards, recognizing projects that re-purpose brownfield sites in positive ways.
WANT TO LEARN MORE?
For more information about urban agriculture or to find out how you can apply to be a summer intern, please contact our askÎy project coordinator or call 306-655-4575.