COMMUNITY MARKETS
Community Markets bring healthy food to neighbourhoods in Saskatoon where access to affordable fruits and vegetables is limited.
Our markets stock produce that are staples in many diets, including apples, bananas, oranges, potatoes, cucumbers, carrots, bread, and eggs as well as some seasonal, local items and even some nonperishables such as tuna and rice.
Coupons for CHEP's Fresh Food Markets are distributed by Saskatchewan Health Authority programs such as Healthy Mother, Healthy Baby and Our Neighbourhood Health Centre. These $5, $10, and egg coupons are redeemable at all CHEP markets.
MARKET LOCATIONS AND TIMES:
Station 20 West
1120 20th Street West
Monday – Friday: 11:00 am – 1:30 pm
Last Market of 2023 – Wed Dec 20
Starting back up Jan 17
Mount Royal Collegiate
2220 Rusholme Road
Tuesdays: 12:00 pm – 3:00 pm
Last Market of 2023 – Wed Dec 12
Starting back up Jan 16
Christ Church Anglican
515 28th Street West
Fridays: 10:30 am – 1:30 pm
Last Market of 2023 – Wed Dec 15
Starting back up Jan 12
USSU Food Centre
Place Riel Student Centre, 1 Campus Drive
Tuesday-Friday: 10:30 am – 3:00 pm
Nutana Collegiate
411 11th Street West
Thursdays: 11:00 am – 1:00 pm
Last Market of 2023 – Wed Dec 14
Starting back up Jan 11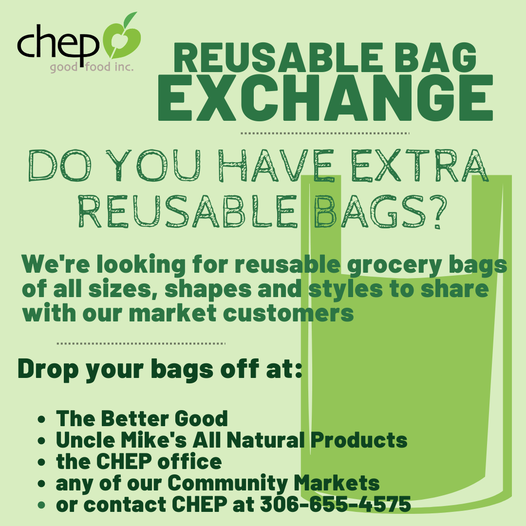 We are phasing out the use of plastic bags at our markets. You can help people navigate this transition by donating a clean, reusable bag (or two, or more)!
You can drop your freshly washed bags off at:
If you don't have bags but DO have extra fabric* you can also donate that! The amazing organization,
Cloth For Kids – C4K
, is also sewing bags for young people to make use of at our markets in schools.
.
*Please contact Lauren for details on what we're looking for in terms of fabric:
Want to Know More?
If you have questions or would like to volunteer at our weekly Station 20 West market, email our Markets Coordinator or call 306-655-4575 ext. 234.